Mood lighting is lighting that often combines multiple shades and combinations of colors in an attempt to create different mood environments in airplanes. The idea is that various lighting schemes can be used to complement the different phases of the flight - from boarding to meal service to sleeping to pre-arrival and more.
Some people think that mood lighting can make it easier to sleep, make airplane food more attractive, and also help reduce jet lag by syncing the lighting colors to the time of the destination. I'm not sure about all the pro-mood lighting claims, but it does look very 80s sci-fi modern cool.
Mood lighting is popular on private jets and has been an optional feature on some Airbus and Boeing planes. It is a standard feature on the upcoming 787.
Here are two pictures I took of the mood lighting used by Virgin America on a LAX-SFO flight:
During Boarding: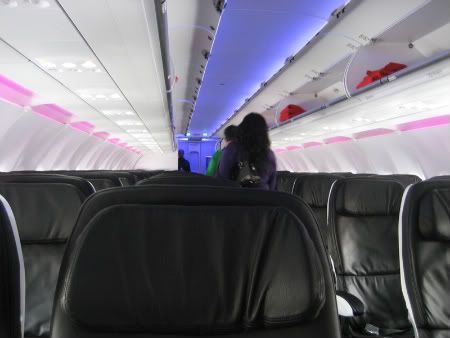 In-Flight: