Tunnel Between LAX Terminal 5 and Terminals 6, 7 and 8 - Travel Tip
Want to get between terminal 5 and terminals 6, 7 and 8 at Los Angeles International Airport (LAX) quickly and without needing to go through security? Take the tunnel between terminal 5 and terminal 6. Once you are in terminal 6 you can get to terminal 7 and 8 because they are connected.
I use the tunnel when flying United Airlines out of terminal 6 or 7 to walk over to the Delta Crown Room Club in terminal 5 to take a shower. If you didn't know, the Delta Crown Room Club has two showers inside their LAX club. One-visit passes are available for $30 if you don't already have access.
Here are the airlines in terminal 5, 6, 7 and 8:
Terminal 5
Aerolitoral
Aeromexico
Air Jamacia
Alitalia
Delta Air Lines

Terminal 6
Continental Airlines
Copa Airlines (Panama)
Delta Air Lines
United Airlines
Virgin America

Terminal 7
United Airlines

Terminal 8
United Express
How to find the tunnel in terminal 5
To find the tunnel in terminal 5 go to the middle of the terminal between gates 53 and 54. Take the escalator next to the McDonald's: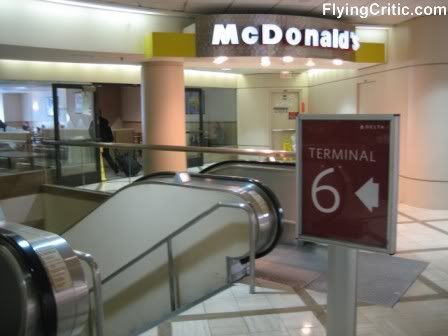 How to find the tunnel in terminal 6
To find the tunnel in terminal 6 go to the middle of the terminal between gates 65 and 66 near the Hudson News and the Ruby's Diner:
The Tunnel
Take the escalator down to the tunnel level:
Walk to the other side of the long tunnel: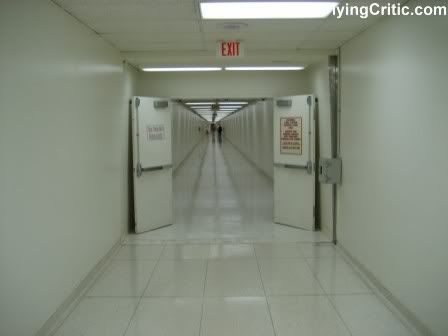 Follow the signs to terminal 5 or 6/7/8: